Teachers
Hadi AsghariDr. Hadi Asghari is an assistant professor of Technology, Policy, and Management, at Delft University of Technology, and a previous fellow at Princeton University's Center for IT Policy. His research focuses on the governance and economics of information security and privacy. In addition to peer-reviewed articles, he has co-authored policy reports for the Dutch Government, the OECD, and the European Commission, and presented at the Microsoft Digital Crimes Consortium and other industry fora.

Bibi van den BergDr. Bibi van den Berg (1975) is associate professor at Leiden University. She is the head of the Cybersecurity Governance research group and the Director of Education at the Institute of Security and Global Affairs. This Institute of part of the Faculty of Governance and Global Affairs, which is located in The Hague. Van den Berg also has an appointment at eLaw, the Center for Law and Digital Technologies at Leiden University's Law School. Van den Berg has an MA and PhD in philosophy, both from Erasmus University in Rotterdam. Her research and teaching focus on several themes: (1) cybersecurity, (2) governance of security and safety (3) regulating human behavior through the use of technologies (techno-regulation and nudging), (4) privacy and identity, and (5) robotics and artificial intelligence. Van den Berg is a member of the Dutch Cyber Security Council, a Council that advises the Dutch cabinet on how to improve cybersecurity in the Netherlands.

Claudia DiazClaudia Diaz is currently a professor at the Computer Security and Industrial Cryptography (COSIC) research group of the Department of Electrical Engineering (ESAT) at the KU Leuven, where she coordinates the Privacy and Identity Management subgroup. The focus of her research is Privacy Enhancing Technologies. She is currently co-Editor-in-Chief of the Proceedings on Privacy Enhancing Technologies (PoPETs) journal.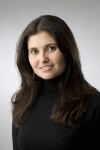 Eleni Kosta Prof. Dr. Eleni Kosta is full Professor of Technology Law and Human Rights at the Tilburg Institute for Law, Technology and Society (TILT, Tilburg University, the Netherlands). Eleni obtained her law degree at the University of Athens (Greece) in 2002 and a Masters degree in Public Law at the same University in 2004. In 2005 she completed an LL.M. in legal informatics at the University of Hannover (Germany) and in 2011 she was awarded the title of Doctor of Laws at the KU Leuven (Belgium) with a thesis on consent in data protection. Eleni is conducting research on privacy and data protection, specialising in electronic communications and new technologies, as well as on health law. She has been involved in numerous EU research projects and is teaching "Capita Selecta Privacy and Data Protection" at the LLM Law & Technology of the Tilburg Law School. In 2014 Eleni was awarded a three-year personal research grant for research on privacy and surveillance by the Dutch Research Organisation (VENI/NWO), which she is currently working on. Eleni also collaborates as associate with timelex (www.timelex.eu).
Robin MansellRobin Mansell is Professor of New Media and the Internet in the Department of Media and Communications, London School of Economics and Political Science. She is known internationally for her work on the social, economic, and political issues arising from new information and communication technologies. She is a member of the Board of Directors of TPRC (Research Conference on Communications, Information and Internet Policy) and has served as President of the International Association for Media and Communication Research, Scientific Chair of EURO Communications Policy Research Conference, LSE Deputy Director and Provost (interim) and is Head of Department, 2017-18. Her books include Imagining the Internet: Communication, Innovation and Governance 2012, The International Encyclopaedia of Digital Communication and Society 2015 and The Handbook of Global Media and Communication Policy 2011.
Andrea MatwyshynDr. Andrea M. Matwyshyn is an academic and author whose work focuses on technology and innovation policy, particularly information security, consumer privacy, intellectual property, and technology workforce pipeline policy. Professor Matwyshyn is a US-UK Fulbright Commission Cyber Security Scholar award recipient in 2016-2017. She is a (tenured full) professor of law / professor of computer science (by courtesy) at Northeastern University, where she is the co-director of the Center for Law, Innovation, and Creativity (CLIC). She is also a faculty affiliate of the Center for Internet and Society at Stanford Law School and a visiting research collaborator at the Center for Information Technology Policy at Princeton University, where she was the Microsoft Visiting Professor of Information Technology Policy during 2014-15. Professor Matwyshyn is also a Senior Fellow of the Cyber Statecraft Initiative at the Atlantic Council, Brent Scowcroft Center on International Security. She has worked in both the public and the private sector. In 2014, she served as the Senior Policy Advisor/ Academic in Residence at the U.S. Federal Trade Commission. As public service, she has testified in Congress on issues of information security regulation, and she maintains ongoing policy engagement. Prior to entering the academy, she was a corporate attorney in private practice, focusing her work on technology transactions. She continues to maintain collaborative technology industry relationships and has authored articles for the popular business press.

Charles RaabCharles Raab is Professorial Fellow, University of Edinburgh; Director, Centre for Research into Information, Surveillance and Privacy (CRISP); co-Chair, Independent Digital Ethics Panel for Policing (IDEPP), National Police Chiefs' Council (UK); member, Alan Turing Institute's Data Ethics Group. Research on privacy, data protection, surveillance, 'smart' environments, security, democracy, identity. Many funded projects, including CANDID, IRISS, PRISMS, PRIME. Publications include (with C. Bennett), The Governance of Privacy (2003; 2006); (with B. Goold), Protecting Information Privacy (2011); (with Surveillance Studies Network), A Report on the Surveillance Society (2006); (with W. Webster et al, eds.), Video Surveillance. Evidence to UK parliamentary committees (e.g., Intelligence and Security Committee, 2014). Specialist Adviser, House of Lords Constitution Committee for inquiry, Surveillance: Citizens and the State, HL Paper 18, Session 2008-09. Fellow, Academy of Social Sciences; Fellow, Royal Society of Arts.
Thorsten StrufeThorsten Strufe is professor for Privacy and Security at Technische Universität Dresden. His research interests lie in the areas of privacy and resilience, especially in the context of social networking and cloud services. Recently, he has focused on studying user behavior and security in online social networks and possibilities to provide privacy-preserving and secure social networking services and big data solutions. He was appointed professor for for Peer-to-Peer networks at Technische Universität Darmstadt, Germany, from 2009 to 2014, and visiting professor for Dependable Distributed Systems at University of Mannheim, Germany, throughout 2011. Previously, he took posts as senior researcher at EURECOM and at TU Ilmenau, working on analysis and the security of online social networks, as well as resilient networking. He received his PhD degree from TU Ilmenau in 2007. His PhD thesis deals with the construction of censorship resistant and network efficient overlay topologies for live multimedia streaming, and means to making them especially resilient towards both the failure of nodes and DoS attacks.

Linnet TaylorLinnet Taylor is Assistant Professor of Data Ethics, Law and Policy at the Tilburg Institute for Law, Technology, and Society (TILT). She was previously a Marie Curie research fellow in the University of Amsterdam's International Development faculty, with the Governance and Inclusive Development group. Her research focuses on the use of new types of digital data in research and policymaking around issues of development, urban planning and mobility. She was a postdoctoral researcher at the Oxford Internet Institute, and studied a DPhil in International Development at the Institute of Development Studies, University of Sussex. She recently published, along with Luciano Floridi and Bart van der Sloot, the book 'Group Privacy: New Challenges of Data Technologies'.